Randolph EMC is a Co-Op utility in North Carolina, USA, serving more than 31 000 consumer-members in Randolph, Moore, Montgomery, Chatham and Alamance countries through approx. 4 400 miles (7 081 km) of electricity lines.
Randolph EMC needed to gain better visibility into grid events and faults, and wanted to improve SAIDI and Customer Interruption Minutes as the key metrics. They knew they had problems in some parts of the grid, but had no way to locate them previously – with Safegrid they could finally find and correct all the "ticking timebombs" before they would cause any outages.
Safegrid quickly proved itself in both finding faults as well as improving Randolph EMC's predictive maintenance efforts. 
An example case was when a particular grid area was found to be congested with partial discharges. When the location was inspected with a thermal camera, a leaking surge arrester was found. As the broken component was replaced before its actual breakdown, some 500 members were saved from a 1-2 hour outage. The single case saved approximately 45 000 Customer Interruption Minutes.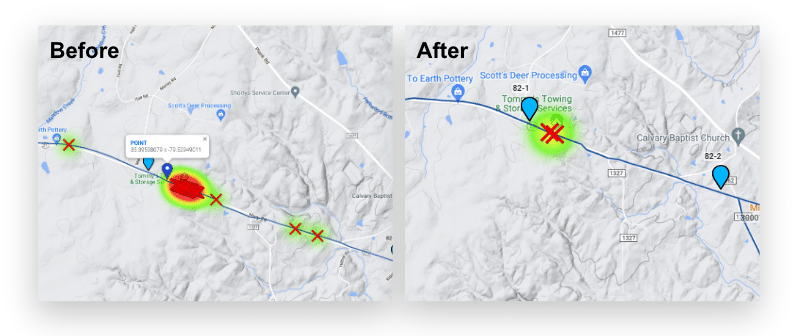 A similar case happened again shortly, saving again some 45 000 Customer Interruption Minutes. The two cases alone saved 3 minutes SAIDI during one month in a small grid area. This led also to improvements in SAIFI metrics. 
In a short period of time, the Safegrid solution has provided Randolph EMC with:
an unprecedented capability to find and correct faults before they occur

reduced 90 000 Customer Interruption Minutes

Improved SAIDI and SAIFI
"Safegrid provides visibility for problems we have known to be out there, but haven't been able to locate proactively. Now we can find and correct these ticking timebombs before they cause an outage" Jacob Barlow, Project Manager